Matthew 6:10
Thy kingdom come, Thy will be done on earth as it is in heaven.
The Bible speaks of a coming thousand year period when Satan and his evil influence will be banished from the earth. The Book of Revelation teaches this predicted millennium of peace will begin following a series of supernatural plagues that will be reminiscent of the Hebrew/Egyptian Exodus. Horrible judgments of evil and marvelous vindication's of the righteous are relayed in the Bible's last book.
Revelation also informs its reader of Satan's ultimate release following this prophesied period of global Christian rule. His release will signal the second of two global confrontations between good and evil that will usher in Jesus Christ's ultimate triumph, and the creation of a new planet where a perfect society of redeemed men and women will dwell eternally, unmixed with evil.
Knights, Dragons, and Fair Maidens in Distress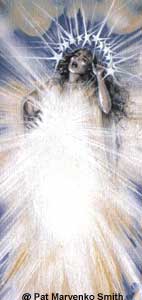 Mankind's tales of antiquity have spun the very sort of good versus evil scenarios that are actually revealed in Revelation's intriguing text. The conscience of man innately requires it (Romans 2:13-15).
The proverbial dragon and maiden of fairytale lore come to life in Revelation 12. The ultimate of all villains, complete with evil sorcerer, is written of Revelation 13. And in Revelation 19 you will find the epitome of all White Knight conquering heroes in the Second Coming of Christ.
So any treatment of John's Revelation is a commentary on the ultimate triumph of good. This is the subject of eschatology, and the purpose of this book.
What Is Eschatology?
Translated from the Greek noun, ESCHATON (last), and the Latin noun, OLOGY (study), eschat-ology is the "heady" subject heading under which biblical scholarship has cataloged the study of the Bible's prophetic record, or the doctrine of "last things."
Some would say the last things spoken of in God's Word are either too good, or (depending on one's disposition) too bad, to really be true. Nevertheless, biblical eschatology proclaims the future annihilation of evil in all its present forms. There will be a culmination of our Creator's efforts in making right the things that have gone so wrong over the centuries because of Adam's sin. This is the message of eschatology: God's "righting" of sin's wrong.
For the Lord is righteous; He loves righteousness; the upright will behold His face.
—Psalm 11:7
According to the Bible's eschatological record, perfect, holy righteousness will be the ruling order of a promised future day. The Bible opens with a perfectly created man walking in fellowship with his Creator by the tree of life (Gen. 2:8,9). It closes with a perfectly recreated man in fellowship with His Creator by the tree of life (Rev. 22:1-4).
God's redemptive lifeline of salvation has been slowly pulling man back to what Adam originally was (whatever that was); and He has been pulling, from age-to-age, according to His set schedule. But before this perfect era arrives on His redemptive calendar will come this one thousand year era in which Satan will bound. According to Jesus Christ, resurrected men and women will be, like the angels in heaven (Matt. 22:30) during this millennial age to come. According to the Zechariah and Revelation, sin will be curbed, yet still allowed (Zech. 14:11-19; Rev.20:7-9).
Kingdom Now and Kingdom Come

The gospel prophecies of Jesus Christ heralded a message of one Messianic kingdom with two separate time periods during which it would flourish. This age, and the age to come:
"And whoever shall speak a word against the Son of Man, it shall be forgiven him; but whoever shall speak against the Holy Spirit, it shall not be forgiven him, either in this age, or in the age to come."
—Matthew 12:32 (also see Mark 1:29,30)
So did the New Testament writings of the apostle Paul:
Ephesians 1:20,21
…which He brought about in Christ, when He raised Him from the dead, and seated Him at His right hand in the heavenly places, far above all rule and authority and power and dominion, and every name that is named, not only in this age, but also in the one to come.
                            This Age: The "Kingdom Now" Age of the Church
The spiritual salvation and reintegration of lost humanity into God's care and dominion is the "this age" plan and purpose ministry of Jesus Christ. The biblical word for kingdom, BASILEIA, means "dominion," "rule," "reign." So victory in the midst of Satan's oppressive, destructive power was Christ's message and example concerning our current age of the church. The kingdom "now" that He came to inaugurate existed privately and violently within the framework of His earthly ministry, then expanded proportionately through the birth of His church. It would, He taught, be realized and encountered by some, but not by all inhabitants of the earth:
Matthew 11:12
And from the days of John the Baptist until now the kingdom of heaven suffers violence, and violent men take it by force.
Jesus earmarked His earthly kingdom's presence with the following statement in Matthew 12:28:
"But if I cast out demons by the Spirit of God, then the kingdom of God has come upon you."
                                          The Age to Come; or, "Kingdom Come"
But Jesus also preached about another kingdom over which He would rule physically on earth: a kingdom in which death and its evil influence would no longer be a reality for its faithful subjects:
"The sons of this age marry and are given in marriage, but those who are considered worthy to attain to that age and the resurrection from the dead, neither marry, nor are given in marriage; for neither can they die anymore, for they are like angels, and are sons of God, being sons of the resurrection."
—Luke 20:34-36
This prophesied time period has not yet arrived, will be succeeded by a timeless age reminiscent of Adam's earliest days, and will be inaugurated by the Second Coming of Jesus Christ.
Peter On the Kingdom
In his stirring Pentecost sermon, the apostle Peter divided these two kingdom periods for us in this way:
Kingdom Now

"Repent therefore and return, that your sins may be wiped away, in order that times of refreshing may come from the presence of the Lord; and that He may send Jesus, the Christ appointed for you…"
Kingdom Come

"…whom heaven must receive until the period of restoration of all things about which God spoke by the mouth of His holy prophets from ancient time."
—Acts 3:19-21
                                                 The "Mystery" of the Church
We will see in Chapter 2 that God's Old Testament prophets understood and prophesied as best they could about this restored earthly kingdom spoken of by Peter, but that they had very little to say about our current age of the church. In fact, they actually seemed to have looked right through it. To them, as a mystery, God's New Testament Revelation was sealed up concerning the church:
And referring to this, when you read you can understand my insight into the mystery of Christ, which in other generations was not made known to the sons of men, as it has now been revealed to His holy apostles and prophets in the Spirit.
—Ephesians 3:4,5
But as for you, Daniel, conceal these words and seal up the book until the end of time….
Daniel 12:4a
                            Resurrection/Rapture: Two Powerful Kingdom Come
Revelations of the Bible's Eschatological Text
Two other startling revelations of the Bible's eschatology await Christ's coming kingdom and our present age's end. A bodily resurrection of the righteous dead; and a mind boggling heavenward snatching of the living Christian church:
But when this perishable will have put on the imperishable, and this mortal will have put on immortality, then will come about the saying that is written, "DEATH IS SWALLOWED UP in victory. O DEATH, WHERE IS YOUR STING?
—1 Corinthians 15:54,55
In this "how to" study, you will discover the relationship between these and other eschatological events as God has scheduled them over the centuries in His redemptive plan. Some have occurred, others are still in the future. But all have been declared in advance.
"Behold, I have told you in advance." —Matthew 24:25
Only God has seen the beginning of man's history through to its final redemptive end. So only He can bear the burden of accurately predicting earth's end in advance. This is the prophetic revelation of eschatology. It is eternal, proceeding from the timelessness of God into the time-consciousness of man. And it can be studied for practical understanding in the here and now. This is man's burden, and the major concern of this eschatological Work.
In pages that follow you will be introduced to every major passage of prophetic revelation in the Old and New Testaments, and you will be given the interpretive tools to discern their context and meaning. The rest will be up to you.
BEHOLD, HE IS COMING WITH THE CLOUDS, and every eye will see Him, even those who pierced Him; and all the tribes of the earth will mourn over Him. Even so. Amen.
—Revelation 1:7
Keep looking up!
Mark