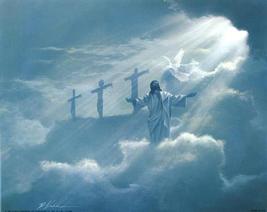 Matthew 28:1-7
1 After the Sabbath, as it began to dawn toward the first day of the week, Mary Magdalene and the other Mary came to look at the grave.
2 And behold, a severe earthquake had occurred, for an angel of the Lord descended from heaven and came and rolled away the stone and sat upon it.
3 And his appearance was like lightning, and his garment as white as snow;
4 And the guards shook for fear of him, and became like dead men.
5 And the angel answered and said to the women, "Do not be afraid; for I know that you are looking for Jesus who has been crucified.
6 "He is not here, for He has risen, just as He said. Come, see the place where He was lying.
7 "And go quickly and tell His disciples that He has risen from the dead; and behold, He is going before you into Galilee, there you will see Him; behold, I have told you."
The testimony of these special women who were the first to know of Jesus Christ's resurrection from the dead is the founding tenant of the Christian faith.
"He is risen, just as He said!" the angel told Mary Magdalene and the "other" Mary (Jesus' aunt) as they hunted for His body once the Passover Sabbath passed. They didn't understand it yet, but they had been with God's Passover lamb during Passover in God's Passover city, and the life changing epoch of the New Testament had just commenced.
"Look where He was lying to see He is no longer there," the angel continued. "Then, quickly go tell His disciples that He has risen from the dead, and that He is going before you into Galilee, there you will see Him."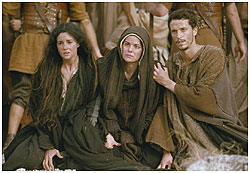 When the two complied with the supernatural messenger's direction, they set out for Jerusalem and were the first to encounter the resurrected Lord.
Matthew 28:8-10
8 And they left the tomb quickly with fear and great joy and ran to report it to His disciples.
9 And behold, Jesus met them and greeted them. And they came up and took hold of His feet and worshiped Him. 10 Then Jesus said to them, "Do not be afraid; go and take word to My brethren to leave for Galilee, and there they will see Me."
"I Am He"
Three nights earlier Jesus spoke "I am He" in response to His captors' Garden of Gethsemane inquiry, and the entire cohort fell to the ground. Historians say a cohort was made up of 600 soldiers (something no Easter movie has captured yet).
John 18:6
6 When therefore He said to them, "I am He," they drew back, and fell to the ground.
The next day at noon while Jesus suffered on the cross, pitch darkness enshrouded Jerusalem for three hours (a type in fulfillment of the ninth Exodus plague previous to the first born's death [Exodus 10:22-23; 11: 4, 5]).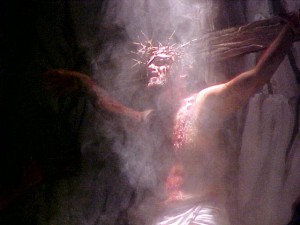 At the end of that time, around 3 PM, Jesus cried out to God (in what scholars confirm was no known earthly language): "Eli, Eli, lama sabachthani?" (translated) "My God, My God, why have you forsaken me?" Then God's only begotten Son gave up His life (John 10:17,18) producing an outpouring of God's Spirit that rumbled the hills of Jerusalem, tearing in two the holy of holies veil, and resurrecting many from the dead.
Matthew 27:45, 50-53
45 Now from the sixth hour darkness fell upon all the land until the ninth hour.
50 And Jesus cried out again with a loud voice, and yielded up His spirit.
51 And behold, the veil of the temple was torn in two from top to bottom, and the earth shook; and the rocks were split,
52 and the tombs were opened; and many bodies of the saints who had fallen asleep were raised;
53 and coming out of the tombs after His resurrection they entered the holy city and appeared to many.
These events are rarely touched upon in pulpit sermons or Easter films. "The Passion of Christ" was the first to capture the temple veil's tearing (signifying the entrance into God's presence once Jesus made the way [Hebrews 10:19,20]). The resurrected saints may have been departed relatives of those they appeared to. Wouldn't that have been something to welcome dear departed Grandfather Mordecai or Aunt Esther to your Sunday evening door?
All of this to say the Bible's "Easter" story is a holy, miraculous story, full of supernatural events and heavenly beings rarely touched upon.
The response of some witnesses present that day is recorded briefly in Matthew 27.
Matthew 27:54
54 Now the centurion, and those who were with him keeping guard over Jesus, when they saw the earthquake and the things that were happening, became very frightened and said, "Truly this was the Son of God!"
Not long after, Jesus would appear to the two Marys, then to the twelve, and the world would never be the same.
Resurrection Change
Allasso is the biblical Greek word used for the change that will take place when the church is resurrected and raptured at the end of the church age.
1 Corinthians 15:50-55
50 Now I say this, brethren, that flesh and blood cannot inherit the kingdom of God; nor does the perishable inherit the imperishable.
51 Behold, I tell you a mystery; we shall not all sleep, but we shall all be changed (allasso),
52 in a moment, in the twinkling of an eye, at the last trumpet; for the trumpet will sound, and the dead will be raised imperishable, and we shall be changed.
53 For this perishable must put on the imperishable, and this mortal must put on immortality.
54 But when this perishable will have put on the imperishable, and this mortal will have put on immortality, then will come about the saying that is written, "Death is swallowed up in victory.
55 "O death, where is your victory? O death, where is your sting?"
Jesus experienced allasso that Sunday morning in the tomb. He was changed to another form of life that only God completely understands. In fact, Jesus was so changed, that in every one of His post-resurrection Gospel recorded appearances, no one recognized Him at first.
Mary thought Jesus was a stranger. When she finally realized who He was, she grabbed Him.
John 20:15-19
15 Jesus said to her, "Woman, why are you weeping? Whom are you seeking?" Supposing Him to be the gardener, she said to Him, "Sir, if you have carried Him away, tell me where you have laid Him, and I will take Him away."
16 Jesus said to her, "Mary!" She turned and said to Him in Hebrew, "Rabboni!" (which means, Teacher).
John 20:17,18
17 Jesus said to her, "Stop clinging to Me, for I have not yet ascended to the Father; but go to My brethren and say to them, 'I ascend to My Father and your Father, and My God and your God.'"
18 Mary Magdalene came, announcing to the disciples, "I have seen the Lord," and that He had said these things to her.
Remember, it was Mary who stayed by Jesus' side throughout His crucifixion; it was Mary who was at the tomb; and it was Mary who Jesus appeared to and gave the first post-resurrection gospel message.
When Jesus appeared to the twelve He walked in through closed doors and gave them a brief demonstration of His new form of life. Once He revealed His wounds and form, the disciples rejoiced, but not before.
John 20:19-22
19 When therefore it was evening, on that day, the first day of the week, and when the doors were shut where the disciples were, for fear of the Jews, Jesus came and stood in their midst, and said to them, "Peace be with you."
20 And when He had said this, He showed them both His hands and His side. The disciples therefore rejoiced when they saw the Lord.
That same day, "two of them" who heard the testimony of Mary Magdalene and Jesus' aunt, the other Mary, were walking the road to Emmaus when Jesus walked up next to them (Luke 24:13-32). In this instance Scripture says, "their eyes were prevented from recognizing Jesus" (vs. 16). Both were confused over Jesus' death, so the risen Lord set them straight. After explaining the events surrounding His crucifixion from "Moses and the prophets," He accepted their dinner invitation, then disappeared in front of their eyes.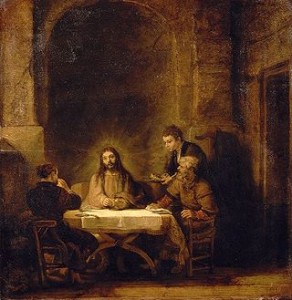 Luke 24:30-33
30 When He had reclined at the table with them, He took the bread and blessed it, and breaking it, He began giving it to them.
31 Then their eyes were opened and they recognized Him; and He vanished from their sight.
32 They said to one another, "Were not our hearts burning within us while He was speaking to us on the road, while He was explaining the Scriptures to us?"
John 21 tells us Jesus worked one last earthly ministry miracle the third time He appeared to the disciples on the sea of Tiberias beach. Jesus called out to Peter, Nathaniel, James, and John who questioned their catch as they returned from a fishing trip. When they acknowledged "none," Jesus encouraged them to try again, and their nets were filled to capacity. To make an accurate account of His appearance, John even counted the number of their catch (153 fish). Jesus ate with them, and still, none seemed to recognize Him, because He was apparently something altogether different following His resurrection from what He was before.
John 21:12
12 Jesus said to them, "Come and have breakfast." None of the disciples ventured to question Him, "Who are You?" knowing that it was the Lord.
The 40 Day Post-Resurrection Jesus Seminar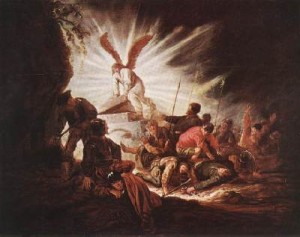 One more regularly ignored Easter revelation involves a series of appearances the resurrected Christ granted hundreds over a period of 40 days. Only Luke tells us of this time period that spanned the Sunday morning Jesus rose from the dead to His Bethany ascension.
Luke 1:1-3
1 The first account I composed, Theophilus, about all that Jesus began to do and teach,
2 until the day when He was taken up, after He had by the Holy Spirit given orders to the apostles whom He had chosen.
3 To these He also presented Himself alive, after His suffering, by many convincing proofs, appearing to them over a period of forty days, and speaking of the things concerning the kingdom of God.
Paul tells us Jesus appeared to more than 500 at one time.
1 Corinthians 15:3-6
3 For I delivered to you as of first importance what I also received, that Christ died for our sins according to the Scriptures,
4 and that He was buried, and that He was raised on the third day according to the Scriptures,
5 and that He appeared to Cephas, then to the twelve.
6 After that He appeared to more than five hundred brethren at one time.
Wouldn't that have been a powerful seminar, crowded in with hundreds to hear the resurrected Lord preach? Taking into account the few teachings documented in His post-resurrection appearances, Jesus probably explained from Moses' tabernacle that shadowed and typed Him, and the prophecies of David, Isaiah, Micah, and Zechariah, who He was, and why He came.
All of this should be fascinating to any Bible/history student. But you won't hear much if anything of these Scriptures on any given Sunday in the church. In fact, the only time you typically hear anything about Jesus' resurrection is on Easter Sunday, and then the usual fare deals ONLY with "the empty tomb."
Why?
Immortality is both pneumatologcial (study of the supernatural attributes of the Holy Spirit), and eschatological (study of the prophetic scriptures), and it's hard to understand in the modern church that doesn't deal much with either of them.
Jesus said His redeemed will be like angels once resurrected.
Mark 12:25
25 "For when they rise from the dead, they neither marry, nor are given in marriage, but are like angels in heaven."
Does that mean we will be able to appear and disappear at will, and travel at the speed of light? Interesting speculation. (Hebrews 1:7; 12:22; 13:2; Revelation 3:5; 5:11; 7:11; 12:7; 14:10; 21:12.)
Paul said once we're changed, the Millennial Reign will lead to a pristine era in which there will no longer be any death.
1 Corinthians 15:20-26
21 For since by a man came death, by a man also came the resurrection of the dead.
22 For as in Adam all die, so also in Christ all shall be made alive.
23 But each in his own order: Christ the first fruits, after that those who are Christ's at His coming,
24 then comes the end, when He delivers up the kingdom to the God and Father, when He has abolished all rule and all authority and power.
25 For He must reign until He has put all His enemies under His feet.
26 The last enemy that will be abolished is death.
This is the truth about the resurrection. Praise Him this Easter for this supreme miracle of salvation…while the others hide their eggs.
He is risen!
Mark Norris, Publisher, Eschatology Today, M.A.