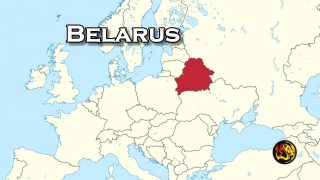 By Stefan J. Bos, Special Correspondent Worthy News
(Worthy News) - As talks were underway between the Vatican and Belarus, reports emerged that Belarusian authorities detained dozens of pro-democracy protesters.
These weekend arrests followed more than a month of rallies against long-time President Alexander Lukashenko who has been accused of human rights abuses.
The detentions overshadowed a meeting between the Vatican's top foreign affairs envoy and the Belarus government.
Archbishop Paul Richard Gallagher, the Vatican's Secretary for Relations with States, arrived a week after the leader of the Catholic Church in Belarus, Tadeusz Kondrusiewicz, was blocked from returning to his homeland.
Kondrusiewicz and other church leaders had spoken out in defense of protesters after police targeted them following the August 9 presidential election.
Also, a Sunday Mass broadcast from the Cathedral of the Holy Name of Mary in Minsk, the capital, was taken off the airwaves of the largest nationwide radio channel in Belarus.
PRAYER MEETINGS
Bishop Yuri Kasabutsky, an auxiliary bishop of Minsk-Mogilev archdiocese, said in published remarks that the sudden cessation of the broadcasts showed authorities were attempting to "put pressure" on the Catholic Church. On Friday, Catholics in Belarus prayed for their main bishop's return from neighboring Poland.
On Friday, Catholics in the capital, Minsk, held a city-wide Stations of the Cross to pray for Kondrusiewicz's return to Belarus. "We will follow this path of the Savior for the freedom of the Church in Belarus, for the return of our Metropolitan, for justice, goodness, and peace in our country," Kasabutsky told them.
Amid the standoff, talks between Gallagher and the Belarus foreign minister and others were aimed at expressing "the attention and closeness" of Pope Francis to Belarus and the Catholic Church, the Vatican said.
It was not immediately clear whether the Vatican could mediate between the opposition and Lukashenko's government. Minsk said after the meeting, it had invited Pope Francis to come to Belarus. But the European Union made clear it is losing its patience with the government of the former Soviet republic.
The EU expressed concern and requested an urgent debate on what it views as the "deterioration" in Belarus's situation. It wants to raise the issue at the top United Nations rights body next week. Brussels is aiming for economic sanctions.
'ELECTIONS RIGGED'
Western countries agree with protestors that Belarus President Lukashenko rigged last month's vote. They say he has ruled his nation with an iron fist for 26 years.
That has become clear in recent weeks. Police were seen beating and even shooting at protestors. "He has been shot in the groin," the friend of an injured young man said.
At least four people were killed and hundreds injured in more than a month of protests against Lukashenko. Over 7,000 people were detained in recent weeks.
Many released from prisons showed signs of torture on their bodies. Since Friday, Belarus's security forces took crores of protestors into custody in a new wave of arrests to end the pro-democracy rallies.
LUKASHENKO WARNING
Earlier, President Lukashenko, who was walking around with a Kalashnikov rifle, had a warning to protestors. "If you are going against our country. Or even in the smallest way, try to plunge the country into chaos and destabilize it, you will an immediate response from me," he shouted.
Facing criticism from the West, Lukashenko tries to improve ties with his main ally and sponsor, Russia. He is to visit Russia on Monday for talks with President Vladimir Putin in Sochi's Black Sea resort.
Some expect Belarusian authorities to take harsh actions against demonstrators ahead of the meeting. Russian President Putin has already said special police forces are ready to help end "violent" rallies in Belarus.
Despite these threats and expulsions of opposition leaders from the country, more massive protests are expected.
Copyright 1999-2020 Worthy News. This article was originally published on Worthy News and was reproduced with permission.