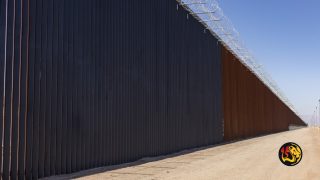 by Karen Faulkner, Worthy News Correspondent
(Worthy News) - A North Dakota construction company has received a massive $1.3 billion contract to build a section of President Trump's US-Mexico border wall, the Arizona Daily Star first reported. The award to Fisher Sand and Gravel Co. is the largest border wall contract to date.
Fisher Sand and Gravel Co. has been contracted to build a 42-mile section of the 450 miles of border wall Trump has promised to build by the end of the year, Fox News reports.
The federal government says it has already built 187 miles, awarding millions of dollars in contracts for constructing 30-foot barriers with new lighting, technology, and infrastructure.
The Army Corp of Engineers, which awards border wall contracts, said Wednesday that there was no start date for the new contract, nor a date by which construction was to be completed, Fox News reported. The Corp said that, together with other companies, Fisher was chosen in May 2019 to participate in building the $5 billion wall.
The Corp said it could not comment on whether there were other bidders for this particular contract because of "procurement sensitivities," Fox News reported. 
Copyright 1999-2020 Worthy News. This article was originally published on Worthy News and was reproduced with permission.