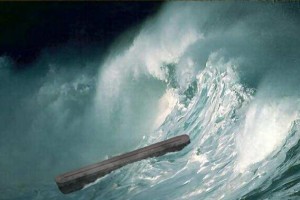 Noah and the Blood Covenant
Noah is the first believer in scripture to overtly offer God innocent animal sacrifice, making him the first literally revealed man of blood covenant in the Bible. This article will show how this world renowned patriarch's salvation through the Great Flood is rooted in the blood covenant of atonement that foreshadowed Jesus Christ.
[continue reading...]
The Truth About the Rapture – Eschatology's Promise of Deathlessness
Before Jesus Christ's return to the earth, the Bible predicts a resurrection and a rapture. Why? And what are they? This is a perplexing question the Bible answers fully. The apostle Paul writes the simutaneous events will happen at the "last" trumpet.

Forgive Everyone Always for Everything, and be Nobody's Fool
The most beneficial, healing attribute of the Christian life is our capacity to forgive others who have sinned against us.

Stay on the Water
When the disciples saw Jesus walking toward them on the stormy Galilee waters none could comprehend the site. After crying out their fears of seeing a ghost, Jesus called out. "Lord, if it is You, command me to come to You on the water," Peter cried back. And Jesus said, "Come!" And Peter got out of the boat, and WALKED ON THE WATER and came toward Jesus." Jesus empowered Peter to miraculously WALK ON WATER when he set his eyes on Jesus and believed His word…

Eschatology Today Great Open Book Bible Prophecy Quiz
Welcome to Eschatology Today's Great Open Book Bible Prophecy Quiz. Unlike open book tests in school, this one has the answers already for you, no searching necessary. The answers' Scripture references are cited too. So bring your Bible to open and read the answer reference. You're sure to grow in your prophecy knowledge simply by taking the quiz.

Pulpit Vacancy at Menlo Park
I'm still not sure how I got the nod to chair our little church's pulpit committee last summer. When I asked what led to my choice, I was simply told, "It's God's will."
I'd been at our little two hundred member congregation three years and served on the board a month. I really liked Pastor Giff, but he finally got fed up with us after serving at Menlo Park Spirit Filled Praise and Worship Fellowship for five years. I suppose all the sniping, griping, and pastor's wife bashing can get to you after a while. He said he was heading to the mission field. Bosnia, I think. I guess we were pretty bad.
No categories