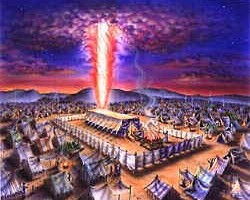 It's Time Again for the October Feasts
It's time again for the Old Testament October feasts that speak of New Testament salvation. If you've never appreciated what each of these holy days mean to you, you can know this year and experience their joyous call to Divine fellowship in them. They are the Feast of Trumpets (October 1), the Day of Atonement (October 10), and the Feast of Booths (October 15).
[continue reading...]

Parables, Anointings, Visions, and Dreams
As I point out in "Searching for Key Words the Inductive Way," once you focus on the available literal revelation there is in the New Testament's eschatological record, some free connected interpretations may apply to the event…

Worthless Waste of Space or Antichrist Incubator?
When President Woodrow Wilson's vision for a League of Nations was fulfilled in 1920, his idea of a world body that would protect and take care of the downtrodden and provide a united front against oppressing, bullying nations was pure. But what has happened over the years has fallen far short of his initial intentions.
The Truth About the Rapture – Eschatology's Promise of Deathlessness
Before Jesus Christ's return to the earth, the Bible predicts a resurrection and a rapture. Why? And what are they? This is a perplexing question the Bible answers fully. The apostle Paul writes the simutaneous events will happen at the "last" trumpet.
What Would You Do if 2016 Were Your Last Full Year on Earth?
How would you fare if your judgment seat was scheduled for some time this year? What would you have to offer God for reward on behalf of your Christian life on earth? Tough question for those who haven't given their life totally to Him. Hebrews 9:27 27 …it is appointed for men to die once and
[continue reading…]

The Spirit of the Antichrist Is Here
A new dark age is on the horizon, and its current day proponents masquerade as "intellects." Their "God is dead" campaign of the '70s tunneled into the institutional "God is irrelevant" campaign of today…
The Battle of Gog
There is a prophesied end-times war in the Old Testament book of Ezekiel that will once again unleash God's divine power to utterly destroy an enemy that comes against Israel. Ezekiel says God will turn this enemy about and put a thought in his head to come out of the north to attack…

Sword of the Spirit
  To most in the Realm of Drugolin, otherly lore lingered as mysterious legends best suited for late night hearths.  The westland village of Noy couldn't afford the apathy of its unenlightened, middleland neighbors. Its enclosing fortress walls stood as a monument to the frightening visitations it experienced, day and night. When the town's most
[continue reading…]
No categories
No categories