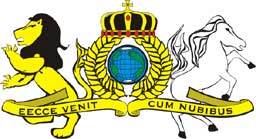 A Word to the Wise Is Sufficient
This article discusses how hermeneutics can crack the cover of Bible prophecy in your personal study. It links several articles that give you the heremeneutical tools for your "own" eschatology study. Where the Word of God Is Bound, So Are We, Where It's Not, We Are Free is the basic rule of this literal study discipline. Become your own eschatologian today, at Eschatology Today.
[continue reading...]

The Battle of Gog
There is a prophesied end-times war in the Old Testament book of Ezekiel that will once again unleash God's divine power to utterly destroy an enemy that comes against Israel. Ezekiel says God will turn this enemy about and put a thought in his head to come out of the north to attack…

Worthless Waste of Space or Antichrist Incubator?
When President Woodrow Wilson's vision for a League of Nations was fulfilled in 1920, his idea of a world body that would protect and take care of the downtrodden and provide a united front against oppressing, bullying nations was pure. But what has happened over the years has fallen far short of his initial intentions.
Interpreting the Rules of Revelation
Bible prophecy. Can the ordinary every day pew warming Christian understand these passages of Scripture that  make up one third of the Bible's text? "No," so many prophetic "experts" seem to say. Their allegorical commentaries that have flooded Christian airwaves and bookstores over the years read and sound like parroted last-days Rapture squak. "Go away, don't
[continue reading…]
The Truth About the Rapture – Eschatology's Promise of Deathlessness
Before Jesus Christ's return to the earth, the Bible predicts a resurrection and a rapture. Why? And what are they? This is a perplexing question the Bible answers fully. The apostle Paul writes the simutaneous events will happen at the "last" trumpet.
What Would You Do if 2016 Were Your Last Full Year on Earth?
How would you fare if your judgment seat was scheduled for some time this year? What would you have to offer God for reward on behalf of your Christian life on earth? Tough question for those who haven't given their life totally to Him. Hebrews 9:27 27 …it is appointed for men to die once and
[continue reading…]

Noah and the Blood Covenant
Last year's excitement over the story of Noah provided great opportunity to rehearse his Genesis 6-9 story, and the preceding chapters of Genesis that lead up to Noah's birth. The movie was a raucus bust, rock monsters and all, but did put the patriarch in the culture. Though others before him surely did, Noah is the first believer in scripture to overtly offer God innocent animal sacrifice, making him the first literally revealed man of blood covenant in the Bible.

Eschatology Today Great Open Book Bible Prophecy Quiz
Welcome to Eschatology Today's Great Open Book Bible Prophecy Quiz. Unlike open book tests in school, this one has the answers already for you, no searching necessary. The answers' Scripture references are cited too. So bring your Bible to open and read the answer reference. You're sure to grow in your prophecy knowledge simply by taking the quiz.

Pulpit Vacancy at Menlo Park
I'm still not sure how I got the nod to chair our little church's pulpit committee last summer. When I asked what led to my choice, I was simply told, "It's God's will."
I'd been at our little two hundred member congregation three years and served on the board a month. I really liked Pastor Giff, but he finally got fed up with us after serving at Menlo Park Spirit Filled Praise and Worship Fellowship for five years. I suppose all the sniping, griping, and pastor's wife bashing can get to you after a while. He said he was heading to the mission field. Bosnia, I think. I guess we were pretty bad.
No categories