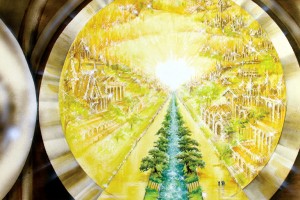 Eschatology and the Kingdom of God
Matthew 6:10 Thy kingdom come, Thy will be done on earth as it is in heaven. The Bible speaks of a coming thousand year period when Satan and his evil influence will be banished from the earth. The Book of Revelation teaches this predicted millennium of peace will begin following a series of supernatural plagues
[continue reading…]
[continue reading...]

Christ in You – the Hope of Glory
We all want to be raptured. I certainly do. But the interpretation of a rapture teaching by Jesus in John 14 shrouds the most impacting New Testament revelation Jesus disclosed in the Gospels: the indwelling of the Holy Spirit in Christ's born-again church. We are the Father's house today in the earth. Was Jesus in John 14 really interested in an event He knew would take place two thousand years from that time when He was preparing to suffer the Cross to give birth to His church? Or was he interested in the birth of His church?
The Truth About the Rapture – Eschatology's Promise of Deathlessness
Before Jesus Christ's return to the earth, the Bible predicts a resurrection and a rapture. Why? And what are they? This is a perplexing question the Bible answers fully. The apostle Paul writes the simutaneous events will happen at the "last" trumpet.
What Would You Do if 2016 Were Your Last Full Year on Earth?
How would you fare if your judgment seat was scheduled for some time this year? What would you have to offer God for reward on behalf of your Christian life on earth? Tough question for those who haven't given their life totally to Him. Hebrews 9:27 27 …it is appointed for men to die once and
[continue reading…]

Our Model of Before-and-After Christian Faith
The apostle Peter is remembered mainly in Christian tradition for his crucifixion night desertion. Yet, after his conversion, Peter learned to hold his tongue, raised the dead, and was so anointed with God's healing power that the people "…even carried the sick out into the streets and laid them on cots and pallets, so that when Peter came by at least his shadow might fall on any one of them" (Acts 5:15)… Peter is the only mortal who ever walked on water, and was used to birth the Gentile Church. This is how the Word of God remembers him, and we should too.

The Spirit of the Antichrist Is Here
A new dark age is on the horizon, and its current day proponents masquerade as "intellects." Their "God is dead" campaign of the '70s tunneled into the institutional "God is irrelevant" campaign of today…

Sword of the Spirit
  To most in the Realm of Drugolin, otherly lore lingered as mysterious legends best suited for late night hearths.  The westland village of Noy couldn't afford the apathy of its unenlightened, middleland neighbors. Its enclosing fortress walls stood as a monument to the frightening visitations it experienced, day and night. When the town's most
[continue reading…]
No categories
No categories